EUROPEAN FAMILY THERAPY ASSOCIATION
CONNECTING FAMILY THERAPISTS AND TRAINERS
Opening speech by Monica Whyte, former EFTA President in Ljubljana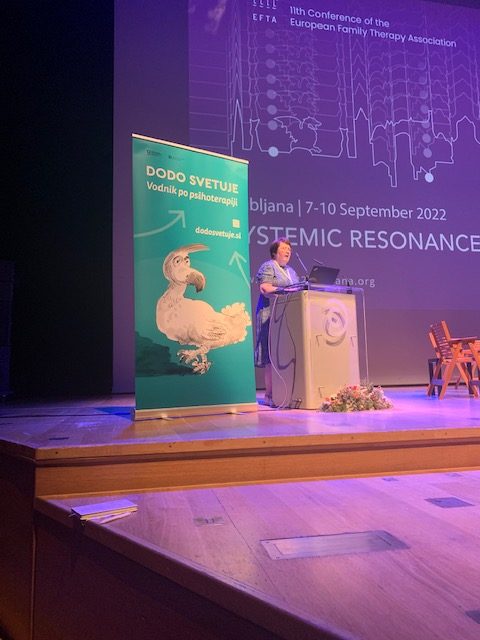 Dear Colleagues, Professors, Lecturers researchers, clinicians and friends. It is my great honour and privilege to welcome you to the European Family Therapy Association conference of 2022 in this wonderful city of Ljubljana.
I extend a warm welcome our keynote and invited speakers, If this is your first time attending an EFTA conference we thank you for choosing to attend and hope you will have a warm welcome to our EFTA community. To those keynote and invited speakers who have attended in the past we thank you especially for continuing your connection and input into our community. We hope with your attendance our EFTA conference will be able to achieve its aims, of providing a forum for academics,researchers teachers, clinicians and most importantly students to advance our knowledge and renew our networks in real life.
Our hosts this year are the Sigmund Freud university of ljubjania and the faculty of theology of the  University of Ljubljana. I thank Dean Vodicar from the faculty of theology for attending today and I extend our thanks to the  presidents and faculty members of both universities for their generosity in hosting the conference.
You will see throughout the conference rooms and venues we have volunteers helping us these are the students and members of our host national family therapy organisation The Association of Marriage and Family therapy of Slovenia  the ZBD
This conference would not have been possible without the work of our conference organising company Symvoli, who have developed a long standing partnership with EFTA. Managing director Vicky Papadimitriou  and Annetta Pavloudi  and their team of Anjelica Anna and Maria have risen to every challenge that the last 2 years of organising has thrown at them and I would like you to join me in showing our appreciation to Symvoli.
I would like to ask the members of the organising and scientific committees to stand up so people can see you. I would like to acknowledge the work of these committees over the last two years of preparation for  the conference. The scientific committee chaired by Professors Mathias Ochs and Miran Mozina have worried pulled their hair out, battled covid and illness to get us to this day. My colleagues in the organising committees have held he anxiety of registration, budgets and contracts in their lives for 2 years.
The last three years since our conference in Naples has been  a time of ontological insecurity. Our clinical practices, ways of working with families and training of students were completely transformed by the pandemic of covid 19 and the lockdowns that came with it. I am intensely proud of how we as an organisation and as a community of family and systemic therapists adapted and used our ingenuity and inventiveness to  remain in dialogue with our clients and students. Much of this new and creative work we will hear in our workshops and presentations in the next days.
As a community since our last conference we have had to endure losses that we could not get to gather to acknowledge. One of  the founders of EFTA our dear Mony Elkaim passed in November 2020 this is the first time we have gathered to acknowledge his loss and reflect on his legacy and remember together this giant of our field.
Recently I was listening to a podcast from the systemic way in it Imelda mc Carty my irish colleague was discussing the development of the Irish 5th province family therapy team.  She highlighted the importance of creating linkages internationally of meeting sharing ideas and supporting one another. I feel at this time this is especially important. This year EFTA issued its Barcelona declaration on  the current invasion of Ukraine by Vladimir Putin. EFTA has done what it can to support our Ukrainian colleagues and I want to especially acknowledge the work of Michel Maestre and Ilona busa in shaping the EFTA response to this war. We welcome  to our conference our Ukrainian colleagues who have travelled from The countries where they have sought refuge to be here with us in Ljubljana.
Agenda
Prochains évènements