EUROPEAN FAMILY THERAPY ASSOCIATION
CONNECTING FAMILY THERAPISTS AND TRAINERS
Couple relationships in a global context
5TH VOLUME OF EFTA BOOK SERIES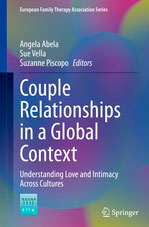 This book examines the significance of the couple relationship in the 21th century, exploring in depth how couple relationships are changing in different parts of the world. It highlights global trends and cultural variations that are shaping couple relationships. The book discusses diverse relationships, such as intercultural couples, same sex couples, long distance couples, polygynous marriages, and later life couples. In addition, chapters offer suggestions for ways to best support couples through policy, clinical practices, and community support. The book also investigates aspects of a relationship that help predict fidelity and stability.
Topics featured in this book include:
Couple relationships when one partner has an acquired physical disability.
Impact of smartphones on relationships.
Online dating and its implications for couple relationships.
Assessment and intervention in situations of infidelity and non-monogamy.
Parenting interventions for the transition from partnership to parenthood.
Online couple psychotherapy to support emotional links between long distance partners.
Couple Relationships in a Global Context is an essential resource for researchers, professors, and graduate students as well as clinicians and practitioners in family therapy, clinical psychology, general practice/family medicine, social work, and related psychology and medical disciplines.
Agenda
Prochains évènements