EUROPEAN FAMILY THERAPY ASSOCIATION
CONNECTING FAMILY THERAPISTS AND TRAINERS
Psychologist and systemic psychotherapist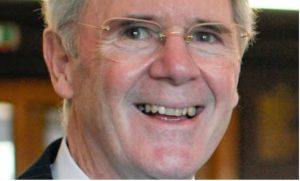 Psychologist and systemic psychotherapist. He worked at Tavistock Clinic for 37 years.

Reeneé Singh: I first met David in 1993, when I was a family therapy trainee in Singapore. Little did I know, at the time, how influential he would be in my professional life.
A few years later, when my dear friend, Reena Nath and I decided to pursue an Advanced training in family therapy, David suggested that we train at the Tavistock Clinic, as it was then called.  He wanted us to set up a Tavistock training back in Delhi after we graduated.  I am sure he had to persuade his colleagues at the Tavi to give us – two unknown women from India – a chance.  After a series of grueling interviews, we found ourselves training at Tavi, with David as my clinical supervisor.
David, who was working with Valeria Ugazio, at the time, would talk to us about Positioning theory, in the most accessible ways possible. He helped me to understand and acknowledge the dilemmas that families found themselves in.  I remember well some of his words of wisdom, "When somebody in a family says they are sad, do explore the opposite content – who in the family is happy?" and "Don't rush in to break the wall, stop for some time and understand the wall.  Admire the bricks it is made of, understand how the bricks fit together…"
That first winter in London, I was cold, miserable and homesick. I missed Delhi, I missed Singapore. Reena's 25th wedding anniversary party was a welcome distraction. The theme was the 1970s and David and his wife, Jane attended. David looked debonair and dashing in his flared trousers and 1970s hat. He was asked to make a speech and obliged. He pronounced, in a Chicago drawl, that after the first twenty- five years of marriage, "It's all downhill from here'.  This became a catchphrase in our household and supervision group!
David was also my research tutor during my doctoral studies at Tavistock and my colleague, after I started working there (needless to say, I did not return to India, after my training). He was the Editor of my first book, my ally and somebody who could be counted on to provide a 'meta perspective'. I was inspired by David's courage in the face of his illness and his famous 'Bile duct' diaries, which captured the journey of his illness. He remained generous and thoughtful towards his colleagues and students during this time.
One of his greatest gifts to me was his connection with Valeria Ugazio, whose work I have been greatly influenced by, many years after his death.
David lives on in my practice, in my writing and in my heart.