EUROPEAN FAMILY THERAPY ASSOCIATION
CONNECTING FAMILY THERAPISTS AND TRAINERS
Systemic research in individual, couple, and family therapy and counseling
4TH VOLUME OF EFTA BOOK SERIES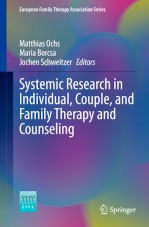 This book examines systemic family therapy research, addressing key topics across the interrelated disciplines of psychotherapy, social work, and counseling. Drawing from contributions at the 2017 International Systemic Research Conference in Heidelberg, it includes both quantitative and qualitative research perspectives and outlines a wide array of approaches, using systems theory and constructivist epistemology. In addition, the book focuses on innovative paradigms, research strategies, and methods, seeking to bridge the gap between research and practice in the field of systemic family therapy. Finally, it provides guidance on submitting and maximizing the likelihood of research paper acceptance to leading family therapy journals.
Topics featured in this book include:
Effectiveness of research-informed systemic therapy.
Mindfulness and compassion-based interventions in relational contexts.
Use of SCORE (Systemic Clinical Outcome and Routine Evaluation) as an indicator of family functioning in Europe.
Systemic approaches for working with couples with high conflict behaviors.
Therapeutic-Factor-Oriented skill building in systemic counseling.
Importance of client feedback in development of professional knowledge base.
Systemic Research in Individual, Couple, and Family Therapy and Counseling is a must-have resource for researchers, professors, and graduate students in family therapy, clinical psychology, general practice/family medicine, and social work as well as all interrelated psychology and medical disciplines.
Agenda
Prochains évènements